Head plates
Lightweight stainless-steel head plates ensure fast and firm head fixation, as well as superior stability of imaging and recordings. Choose from 14 models to match your research needs and methods. Clean and reuse multiple times.
From 235.50 USD
We offer a selection of fourteen head plate models:
Opening shapes and sizes
Model 1: round 4,2 mm opening
Model 2: round 5,2 mm opening
Model 3: round 6,2 mm opening
Model 4: round 7,2 mm opening
Model 5: round 8,2 mm opening
Model 6: oval opening, 5,2 mm X 8,2 mm
Model 8: rectangular opening, 5,2 mm X 7,5 mm
Model 9: rectangular opening, 5,2 mm X 7,5 mm, 30-degree bevel
Model 10: round opening, 4,2 mm, 2 mm offset
Model 11: tear-shaped opening
Model 13 (magnetic): round opening, 11 mm
Model 14 (fUS): rectangular opening, 13 mm X 21 mm
Model 15: round 4,2 mm opening, long blades
Model 16: round 8,2 mm opening, long blades
Head plates' designs & applications
Helicopter design (models 1-11, 15-16, with four blades) ensures maximum stability for in vivo imaging and recordings in awake animals;
The Levelt head plate (model 13) is made of magnetic stainless steel: magnetic fixation make is easy to head-fix the mouse or detach the mouse's head;
Models 6, 8, and 9 are designed for electrophysiological recordings with access to both hemispheres; the beveled design of model 9 allows better access with micromanipulators at non-vertical angles;
Models 10 and 11 provide better access to rostral and caudal areas.
Model 14 is designed specifically for functional ultrasound imaging (fUS); the head plate exposes a larger area of the brain (for fUS, optical imaging, or microelectrode access) than any other opening;
Modes 15 and 16 have the same opening sizes as models 1 and 5 respectively, only the blades are long for compatibility with wide-diameter objectives. These head plates are not compatible with the standard clamp and must be used with the fUS clamp instead.
Compatibility
Models 1-11 are compatible with the standard clamp (including all tilted versions);
Model 13 is compatible with the Levelt clamp;
Models 14-16 are compatible with the fUS clamp, although only model 14 is used for the functional ultrasound imaging and models 15, 16 are designed for two-photon or wide-field imaging with wide diameter objectives.
Manufacturing methods
Photochemical etching: models 1-6, 8, 10-11;
Laser-cutting: models 9, 13-16.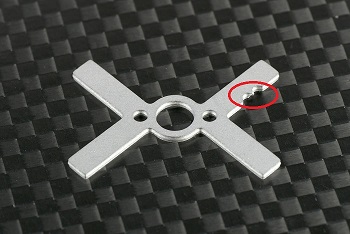 Etched head plates have a small indentation on one of the blades – this is not a defect, and it does not affect imaging and recording stability. The indent is circled red on the left-hand-side picture.
Head plates' specifications
Approximate weight: 0,9-1,3 g per head plate, weight varies by model;
Thickness: 1 mm;
Material: stainless steel (magnetic stainless steel for model 13).
Minimum order requirement
10 head plates per order (prices under 'choose an option' are for a set of ten head plates).
Want to sample several head plates' models?
Please order any model, list the models that you want to try and their quantities (up to 10) in the note-field. Voila!
The head plates are reusable.
Interested in spinal plates instead?
Since spinal cord surgery requires more than plates, we have included the spinal plates with the spinal cord surgery set.